Ayung River Rafting Ubud - Best White Water Rafting Ubud Bali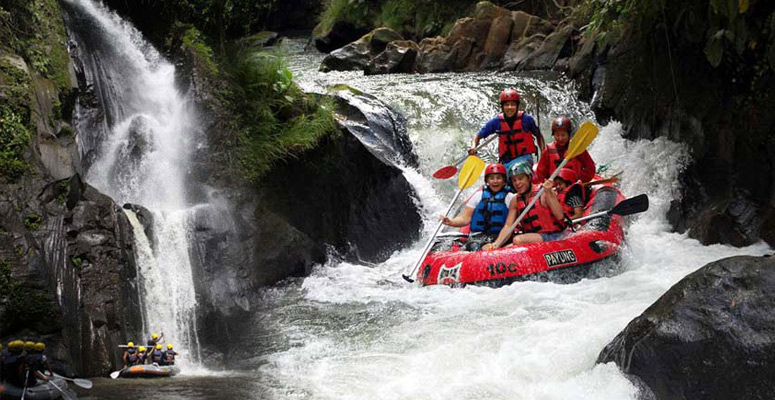 The most favorite white water rafting sites in Bali, suitable for you if you are looking for an adrenaline rush in outdoor activity. Only 1.5 hours approximately from Kuta
Location

: Ubud (1.5 hours from Kuta)

Rafting Duration

: 2 hours river rafting

Whole Duration

: 5 - 7 hours

Boat Capacity

: max. 6 + 1 Guide

Lunch

: Included
+

Location

: Ubud (1.5 hours from Kuta)
+

Rafting Duration

: 2 hours river rafting
+

Whole Duration

: 5 - 7 hours
+

Boat Capacity

: Max 6 + 1 guide
+

Lunch

: Included
Best seller rafting site in Bali
AYUNG RIVER RAFTING UBUD BALI
Ayung River Rafting or called also as Ubud Rafting is one of the most Favorite white water rafting sites in Bali, has a stable water condition in all year round, although during the dry season or Wet seasson. Ayung Rafting ubud is suitable for any level rafting experience. It has medium rapids with a rapid level of 2-3 for most of the parts. Ayung river rafting offer you 12 kilometers distance of rafting track, it take about 2 - 2.5 hours to finish.
During the rafting activity, you will amazed with spectacular view of unspoiled rainforest, rice fields, magnificent (hidden) waterfall and amazing stone carving on some area of the river walls. With only 1.5 hours approximately from Kuta, you can enjoy this magnificent adventurous river in Ubud.
However, it is not recommended for elderly due to the long stairways which require efforts and some strong legs to get to the starting point in the river from the lobby area, and vice verca.
Each participant will be briefed and escorted by a professional rafting guide. The package includes the complete safety equipment like helmet, life jacket, paddle, and insurance. If you're still not sure which track you should take, feel free to contact our team to discuss the right trip that suits your needs.
AYUNG RAFTING UBUD PROGRAM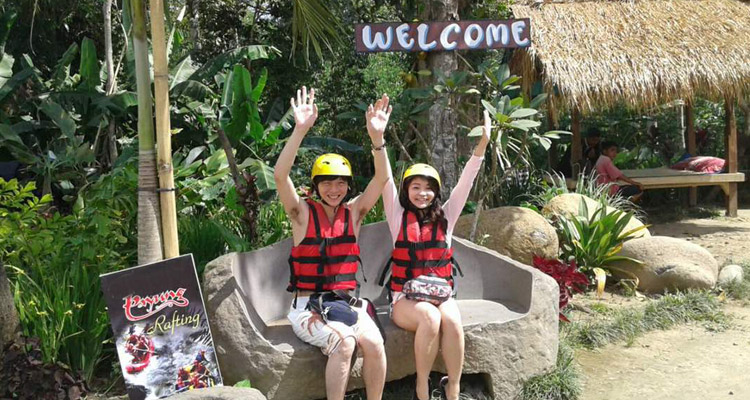 Ayung Rafting Ubud
Between 8.00 - 9:00am "time depending on your hotel locations", our driver will pick you up at your hotel or meeting point. At 10.00am Arrived at our rafting house , our friendly staff will welcome you for registration while enjoying a welcome drink that has been provided, and then continued for setting of rafting equipment.
All guests or group representatives must sign name before going rafting, our guide will leads you walk towards to the river rafting start point, it is about 15 minutes. Enjoy the green scenery of rice fields and tropical forests Bali during the journey. On the river before start rafting, our guides will give you demonstrations about safety standard and all instructions what you can do and what you should not to do during the rafting. Now let's grab your paddle and start the adventure, 2.5 hours journey conquer the challenging rapids while enjoying beautiful scenery of Ubud tropical forest.
At 1.00pm reach at finish point / in the restaurant, take a shower (shower facilities already provided: soap, shampo, and towel). Buffet lunch menu is waiting for you at the restaurant table, choose what you like and enjoy it. After lunch we will drop you back to your hotel/villa and sleeping in the car during the journey.
AYUNG RAFTING UBUD PRICE
Here are the price list of Ayung river rafting Ubud. Price based on per person. Minimum booking 2 persons for morning session and 3 persons for afternoon session.
INCLUDE TRANSPORT
2 person : IDR 470k /person
3 person : IDR 420k /person
4 person & more: IDR 385k /person
* Minimum booking 2 person
* Special Price for pickup at Ubud area
WITHOUT TRANSPORT
2 person : IDR 340k /person
3 person : IDR 330k /person
4 person & more : IDR 320k /person
* Minimum booking 2 person
PRICE INCLUSIONS
Air conditioner return hotel transfers (Private Transport).
Welcome Drink (Mineral water / Tea)
Locker for you lugage
Complete Rafting equipment
Professionally trained and experience Rafting Guide
Water resistant bags are provided for your valuable
Complete changing/shower facilities with clean towels
Lunch/meal and Tea/Mineral water
Goverment Tax
And insurance for 6 – 65 y.o
Excluding: The price above are not include for personal expenses. Such as photo, video or optional drink at the restaurant.
PICKUP SCHEDULES
Ayung river rafting Ubud offer 2 session a day, morning and afternoon. Select what session you prefer, and inform us when you make a booking. Here are the pickup schedule on each session.
| PICKUP AREA | MORNING | AFTERNOON |
| --- | --- | --- |
| Nusa Dua, Jimbaran | 08.00 AM | 10.30 AM |
| Kuta, Seminyak, Canggu, Denpasar | 08.15 AM | 10.45 AM |
| Sanur | 08.30 AM | 11.15 AM |
| Ubud | 09.15 AM | 11.45 AM |
MORNING TRIP ITINERARY
@ 08.15 - Pickup at hotel (pickup time may vary depend on your hotel location)
@ 09.45 - Arrive at Meeting point, Registration and setup equipment
@ 10.15 - Start the River Rafting Adventure
@ 12.45 - Reach at Rafting finish point, take shower, and Lunch
@ 13.30 - Finish and Back to Hotel
AFTERNOON TRIP ITINERARY
@ 10.45 - Pickup at hotel (pickup time may vary depend on your hotel location)
@ 12.15 - Registration and setup equipment
@ 12.45 - Start the River Rafting Adventure
@ 15.15 - Reach at Rafting finish point, take shower and Lunch
@ 16.00 - Finish and Back to Hotel
WHAT YOU NEED TO BRING
Change of clothes (short pant and casual shirts)
River Shoes or flip flops is ok ( Optional )
Sun lotion
Action Camera / Phone camera
Money for optional drink and souvenir.
ADDITIONAL INFORMATIONS
This special price Valid for direct booking only, not by third party.
Minimum booking is 2 persons, will there additional charge for single booking IDR 200.000
We accept payment in Indonesian Rupiah or USD based on the latest exchange rates.
Payment by credit card will be charged 3% bank fee.
5 REASONS WHY BOOK AYUNG RAFTING
Location is closer from hotel where most guests stay (ubud, kuta, seminyak, nusa dua, jimbaran). Especially if you stay in ubud, only takes 15 - 30 minutes to the rafting location.
Have stable water condition when in Dry and Wet session. The rapids classes are mostly class 2 and 3. Overall, the rapids are more challenging than other rivers.
Fantastic scenery along rafting trip, such as : Big Cliffs, Waterfall, rice fields, forest, and stone carvings on some river wall areas.
We have longer rafting trek in Ayung river, it is about 12 km, where most other operators only 10 km. It is mean you will get more variation trek where you will not get in other rafting operator.
WORRY FREE! Book this special offer now and pay it on the day in location.
Ayung River Rafting Bali

GUEST REVIEW'S

4.8

25 Review's
5 Star
21
4 Star
2
3 Star
2
2 Star
0
1 Star
0
Ilse
Netherlands

EXCELLENT

We had a great day. Rafting through beautiful nature, in the middle of the jungle. Everything was well organized. Then a trip with the quad. Super cool. Our kids enjoyed it and the guidance was top notch. I found out that I lost my ring. Took it off when applying sunscreen. I texted the organization and they found him. We were already on our way to Sanur. Ordered a taxi from there. Sossss: really great!! My ring is back and the service and contact great.

Chrys
Indonesian

EXCELLENT

With pleasure! It was a really good experience for everyone !! All are enjoy, the men would be more water flow but they was very happy for the activity! Our guide was perfect! So much fun ☺️ Thank you again for the activity and we talk about you to our friends here but also family and friend come to see us in bali

Omar
Australian

EXCELLENT

It was great 👍 we had a really fun time thank you. Both "Rafting & ATV" were a lot of fun and the driver was excellent too.

Nicolle
USA

EXCELLENT

We had a great trip , thank you! Noman was an awesome guide!

Mark L
UnitedKingdom

EXCELLENT

Hello. It was great. A very well organised trip. We all had a great time

Michal
Poland

EXCELLENT

It was realy cool. Thank you

Guillaume Foucaud
French

GOOD, But..

What we liked: - The pick-up and drop-off with the van was really good, the driver is nice and welcoming. - The explanation at departure is clear and the rafting specialist is really good. The lunch at the end is simple but nice. - The trip is nice, nature is awesome and the waterfalls perfect for pictures. What we did not like: - They don't have a credit/debit card system so all is in cash despite what they say in the email - The river is very dirty at some places with lots of rubbish entangled in branches or on the river bed, considering that there are so many companies operating the river rafting, it would take them altogether max 1-2 days to make it clean again. :( , especially since they are not busy now with the Corona virus. - The mandatory break at mid-distance in a small shop feels more like a trap than a service. They charged us 50,000IDR for a coconut (x3) , which is ridiculous and you can't bargain because you don't have cash on hand (as you left it at the departure office). So the experience was good overall, kids got good memories.

Thailia
American

EXCELLENT

Hello 🙏 Our experience yesterday with your rafting staff is amazing! Your rafting guides are so awesome and funny and friendly......they are very good at what they do and your lunch food is so yummy ! Please say thank you to all your staff and establishments for great forever memories given to us yesterday! Thank you , take care and be safe !

Michelle
Australian

EXCELLENT

Awesome fun day out. Our kids had a fantastic time. The guide was funny & made it an amazing experience. Highly recommend.

Kon
Autralian

EXCELLENT

Booked same day without issue. They organised hotel pick up and drop off as planned. Went white water rafting with my 7 year old who absolutely loved it. Was made even more enjoyable by our host who kept us entertained throughout the day.
NORMAL PRICE
USD 75 /person
Special Price Now
USD 27 /Person
FOR MINIMUM BOOKING 4 PEOPLE
(OUR PRICE IS VALID FOR DIRECT BOOKING ONLY)
BOOK NOW, AND PAY ON THE DAY IN LOCATION
Call/WhatsApp: +6285100352668 / +6281353046942
Email: booking[at]bali-river-rafting.com
Ayung River Rafting Bali PHOTOS