Bali Rafting and Elephant Ride Tour
The trip begins with river rafting in the morning, pick up at 8 am from your hotel. Then start for river rafting at 10 am and finished around 1 pm and then take lunch. Along the river you will be faced with many rapids, with grade 1 to 4 with the background scenery unspoiled tropical forest, and also some spectacular waterfalls flow that will make your bali rafting tour enjoyable and unforgettable. During your rafting trip will be accompanied by one of our professional guides for each boat.
Bali Elephant Safari Ride - The experience of sitting in wooden chairs on elephants, explore the cool forests of bali is an experience you'll never forget. if you come to Bali, you should try to this experience. gain experience in interacting with the elephants up close and personal in a beautiful tropical garden atmosphere.
PACKAGE OPTIONS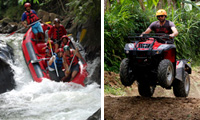 Ayung Rafting and Elephant ride
The experience of sitting high a top an elephant in a teak wood chair, through the cool jungle of Taro. This Elephant safari park is the ONLY complete elephant experience in the world - making it truly unique. "Minimum 2 persons"
+ Adult : USD 124 /person
+ Child : USD 110 /person
Telaga waja rafting + Elephant ride
This program offers you to sit back and relax in a chair placed on elephant back, while enjoying the natural scenery. You will be invited to tour to the elephant safari park, and observe the activities of the farmers in their fields. "Minimum 3 persons"
+ Adult : USD 135 /person
+ Child : USD 120 /person