Bali Rafting and Bali ATV Ride Package
AN AMAZING FULL DAY ADVENTURE PACKAGE - 1.5 - 2 HOURS RIDING OF ATV / QUAD BIKE AND 2 - 3 HOURS WHITE WATER RAFTING BALI, FULL FUN AND ADRENALINE RUSH
Bali rafting and ATV ride tour is the right package for you who want a full day adventure. Explore the Bali tropical nature with ATV and conquered the challenging river rapids with a raft. Be guaranteed your holiday will not be boring.
Your day adventure will start to Enjoy a challenging experience riding of ATV / Quad Bike along the tropical Bali, including: rice fields, bamboo trees, challenging riverbed, plantation, jungle, villages, and fantastic black sandy beach. After 2 hour ATV ride and take lunch, activity continued to the next adventure white water rafting Bali. Grab your paddle and get ready to conquered the challenging rapids in Ayung or Telaga Waja river. Lets get wet and get more fun!
PACKAGE OPTIONS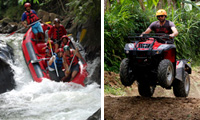 Ayung rafting + Ubud ATV ride tour
Best price Combination package - Exploring fantastic place Ubud in a different way, a blend sensasion of adrenaline rush and enjoying the natural beauty of Ubud with ATV Ride program, and then continued for River Rafting in spectacular Ayung river. "Minimum 2 persons"
+ Single Ride : USD 82 /person
+ Tandem Ride : USD 145 /2person
Telaga waja rafting + Wake ATV ride
This combination package is suitable for you who want a full-day adventure, but not too tiring. 3 hours rafting on the easy accessible river and 1.5 hours ATV Ride in Wake Adventure Park, Best ATV Trek in Bali. "Minimum 2 persons"
+ Single Ride : USD 102 /person
+ Tandem Ride : USD 172 /2person