Ayung River Rafting Ubud - Best White Water Rafting Ubud Bali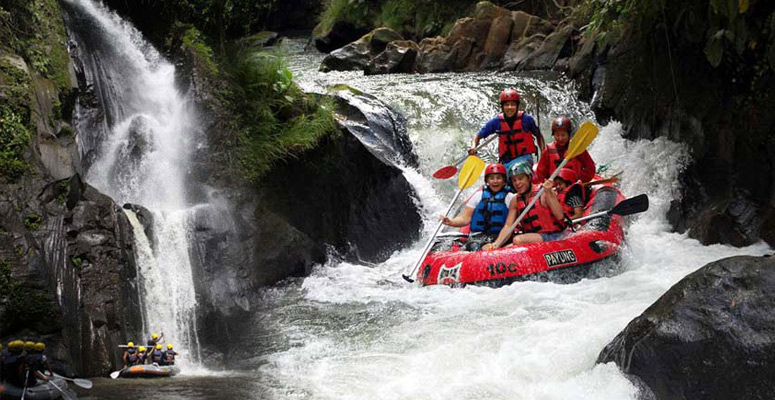 The most favorite white water rafting sites in Bali, suitable for you if you are looking for an adrenaline rush in outdoor activity. Only 1.5 hours approximately from Kuta
Location

: Ubud (1.5 hours from Kuta)

Rafting Duration

: 2 hours river rafting

Whole Duration

: 5 - 7 hours

Boat Capacity

: max. 6 + 1 Guide

Lunch

: Included
+

Location

: Ubud (1.5 hours from Kuta)
+

Rafting Duration

: 2 hours river rafting
+

Whole Duration

: 5 - 7 hours
+

Boat Capacity

: Max 6 + 1 guide
+

Lunch

: Included
Best seller rafting site in Bali
AYUNG RIVER RAFTING UBUD BALI
Ayung River Rafting or called also as Ubud Rafting is one of the most Favorite white water rafting sites in Bali, has a stable water condition in all year round, although during the dry season or Wet seasson. Ayung Rafting ubud is suitable for any level rafting experience. It has medium rapids with a rapid level of 2-3 for most of the parts. Ayung river rafting offer you 12 kilometers distance of rafting track, it take about 2 - 2.5 hours to finish.
During the rafting activity, you will amazed with spectacular view of unspoiled rainforest, rice fields, magnificent (hidden) waterfall and amazing stone carving on some area of the river walls. With only 1.5 hours approximately from Kuta, you can enjoy this magnificent adventurous river in Ubud.
However, it is not recommended for elderly due to the long stairways which require efforts and some strong legs to get to the starting point in the river from the lobby area, and vice verca.
Each participant will be briefed and escorted by a professional rafting guide. The package includes the complete safety equipment like helmet, life jacket, paddle, and insurance. If you're still not sure which track you should take, feel free to contact our team to discuss the right trip that suits your needs.
AYUNG RAFTING UBUD PROGRAM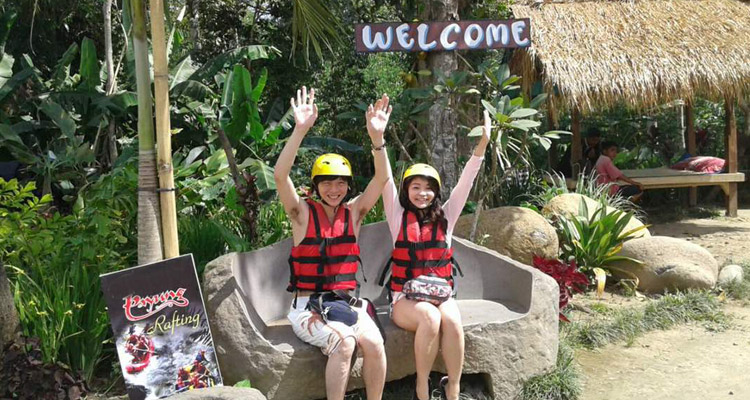 Ayung Rafting Ubud
Between 8.00 - 9:00am "time depending on your hotel locations", our driver will pick you up at your hotel or meeting point. At 10.00am Arrived at our rafting house , our friendly staff will welcome you for registration while enjoying a welcome drink that has been provided, and then continued for setting of rafting equipment.
All guests or group representatives must sign name before going rafting, our guide will leads you walk towards to the river rafting start point, it is about 15 minutes. Enjoy the green scenery of rice fields and tropical forests Bali during the journey. On the river before start rafting, our guides will give you demonstrations about safety standard and all instructions what you can do and what you should not to do during the rafting. Now let's grab your paddle and start the adventure, 2.5 hours journey conquer the challenging rapids while enjoying beautiful scenery of Ubud tropical forest.
At 1.00pm reach at finish point / in the restaurant, take a shower (shower facilities already provided: soap, shampo, and towel). Buffet lunch menu is waiting for you at the restaurant table, choose what you like and enjoy it. After lunch we will drop you back to your hotel/villa and sleeping in the car during the journey.
AYUNG RAFTING UBUD PRICE
Here are the price list of Ayung river rafting Ubud. Price based on per person. Minimum booking 2 persons for morning session and 3 persons for afternoon session.
INCLUDE TRANSPORT
2 person : IDR 470k /person
3 person : IDR 430k /person
4 person & more: IDR 390k /person
* Minimum booking 2 person
* Special Price for pickup at Ubud area
WITHOUT TRANSPORT
2 person : IDR 340k /person
3 person : IDR 330k /person
4 person & more : IDR 320k /person
* Minimum booking 2 person
PRICE INCLUSIONS
Air conditioner return hotel transfers (Private Transport).
Welcome Drink (Mineral water / Tea)
Locker for you lugage
Complete Rafting equipment
Professionally trained and experience Rafting Guide
Water resistant bags are provided for your valuable
Complete changing/shower facilities with clean towels
Lunch/meal and Tea/Mineral water
Goverment Tax
And insurance for 6 – 65 y.o
Excluding: The price above are not include for personal expenses. Such as photo, video or optional drink at the restaurant.
PICKUP SCHEDULES
Ayung river rafting Ubud offer 2 session a day, morning and afternoon. Select what session you prefer, and inform us when you make a booking. Here are the pickup schedule on each session.
| PICKUP AREA | MORNING | AFTERNOON |
| --- | --- | --- |
| Nusa Dua, Jimbaran | 08.00 AM | 10.30 AM |
| Kuta, Seminyak, Canggu, Denpasar | 08.15 AM | 10.45 AM |
| Sanur | 08.30 AM | 11.15 AM |
| Ubud | 09.15 AM | 11.45 AM |
MORNING TRIP ITINERARY
@ 08.15 - Pickup at hotel (pickup time may vary depend on your hotel location)
@ 09.45 - Arrive at Meeting point, Registration and setup equipment
@ 10.15 - Start the River Rafting Adventure
@ 12.45 - Reach at Rafting finish point, take shower, and Lunch
@ 13.30 - Finish and Back to Hotel
AFTERNOON TRIP ITINERARY
@ 10.45 - Pickup at hotel (pickup time may vary depend on your hotel location)
@ 12.15 - Registration and setup equipment
@ 12.45 - Start the River Rafting Adventure
@ 15.15 - Reach at Rafting finish point, take shower and Lunch
@ 16.00 - Finish and Back to Hotel
WHAT YOU NEED TO BRING
Change of clothes (short pant and casual shirts)
River Shoes or flip flops is ok ( Optional )
Sun lotion
Action Camera / Phone camera
Money for optional drink and souvenir.
ADDITIONAL INFORMATIONS
This special price Valid for direct booking only, not by third party.
Minimum booking is 2 persons, will there additional charge for single booking IDR 200.000
We accept payment in Indonesian Rupiah or USD based on the latest exchange rates.
Payment by credit card will be charged 3% bank fee.
5 REASONS WHY BOOK AYUNG RAFTING
Location is closer from hotel where most guests stay (ubud, kuta, seminyak, nusa dua, jimbaran). Especially if you stay in ubud, only takes 15 - 30 minutes to the rafting location.
Have stable water condition when in Dry and Wet session. The rapids classes are mostly class 2 and 3. Overall, the rapids are more challenging than other rivers.
Fantastic scenery along rafting trip, such as : Big Cliffs, Waterfall, rice fields, forest, and stone carvings on some river wall areas.
We have longer rafting trek in Ayung river, it is about 12 km, where most other operators only 10 km. It is mean you will get more variation trek where you will not get in other rafting operator.
WORRY FREE! Book this special offer now and pay it on the day in location.
Ayung River Rafting Bali

GUEST REVIEW'S

4.8

25 Review's
5 Star
21
4 Star
2
3 Star
2
2 Star
0
1 Star
0
Mark McNamara
Australia

EXCELLENT

My son and I had a great day river rafting in Bali. So enjoyable and fun. Our guide Kadek made it that much more enjoyable with his crazy antics. I would highly recommend.

Michael
russian

SUPER

It was good experience. But a little bit too easy for me. The guy was very welcome and he could explain very well.

Pia Bathgate
Australia

GOOD, But..

The company was amazing! They responded to my emails promptly, and their pickup service was on time and excellent. The equipment and food was also top quality. Our only issue was with our rafting guide in the second half. He was very loud and annoying, and constantly hassling us for tips. He maybe asked us twenty separate times. It ruined the beautiful scenery, and the fun of the rapids.

Michelle
Singapore

EXCELLENT

My fiance and I had a remarkable rafting experience. We enjoyed the adventure and would definitely come back again!

Leonard Family
Australia

EXCELLENT

Our family of 5 including 3 teenagers had the best day of rafting. Our guide Marco was excellent and we got great value for money !!!
NORMAL PRICE
USD 75 /person
Special Price Now
USD 27 /Person
FOR MINIMUM BOOKING 4 PEOPLE
(OUR PRICE IS VALID FOR DIRECT BOOKING ONLY)
BOOK NOW, AND PAY ON THE DAY IN LOCATION
Call/WhatsApp: +6285100352668 / +6281353046942
Email: booking[at]bali-river-rafting.com
Ayung River Rafting Bali PHOTOS